TEKELS PARK, CAMBERLEY, SURREY, ENGLAND GU15-2LF
TEKELS PARK &
DEAD ANIMALS
The not-for-discussion secret of
The Theosophical Society in England
Try finding any Theosophist who will say
that they support the sale of Tekels Park
Try finding anyone in the TS England leadership
 who is even bothered that the Tekels Park animals
may face death by slaughter or starvation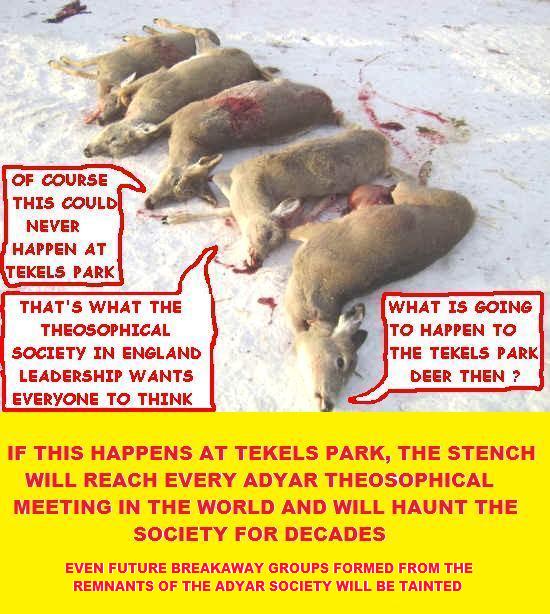 Oblivious to proposals to save Tekels Park for the wildlife and Theosophy, the Theosophical Society in England leadership are continuing to try to sell Tekels Park for development. When challenged about the sale, most TS England officials will say that it has nothing to do with them and all the decisions are being taken elsewhere. Figures relating to the sale of the Park have not been made available to lodge secretaries or members and the membership has never been consulted about the sale.
The issue has never been thrown open to suggestions from members and a referendum of all England TS members regarding this incredibly important issue has never been offered. A referendum would involve discussion and it is abundantly clear that this matter is not open for debate.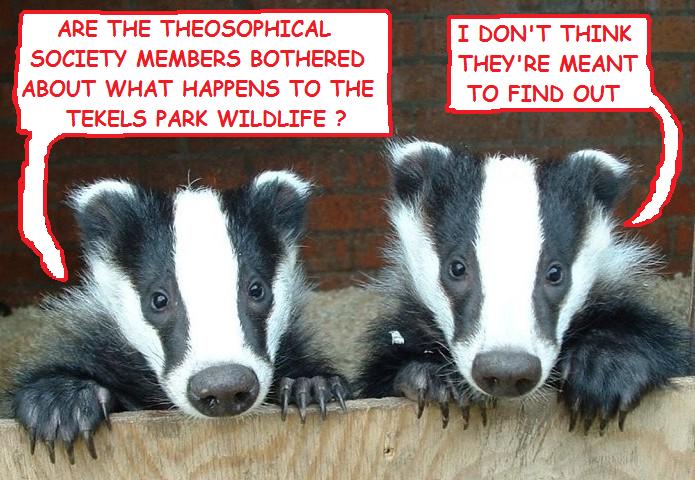 Future of Tekels Park Badgers Now in Doubt
The sale of Tekels Park to a developer will clearly lead to the deaths of the once cherished animals in the Park. Although nobody in the England TS will take responsibility for the sale of Tekels Park, the inevitable killing of the animals by slaughter or starvation will seriously damage the reputation of the Adyar based Theosophical Society, not just in England but throughout the world. Even a future Theosophical Movement based on the remnants of the Adyar Theosophical Society would have to make strenuous efforts over a long period to distance itself from Tekels Park.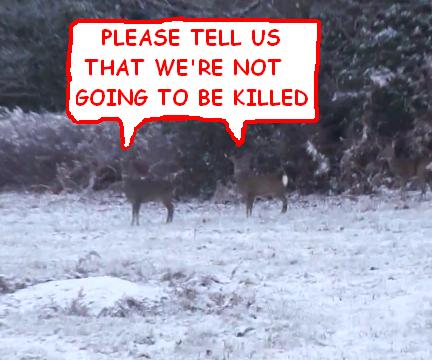 The Tekels Park Deer were once cherished
by the Theosophical Society in England
Tekels Park was originally gifted to the Theosophical Society in England in 1962 by surviving members of a Theosophical Community that established the Park as a Theosophical centre in the 1920s. They believed that they were handing the Park over to the care of a spiritual organisation.
Tekels Park is owned by;
The Theosophical Society in England (Adyar)
50 Gloucester Place
London W1U-8EA
Tel 0207 563 9817
Please note that there is more than one Theosophical Society. Only the Theosophical Society with its headquarters at Gloucester Place, London is connected to Tekels Park. This is generally known as the Theosophical Society (Adyar), as its international headquarters are in Adyar, India.
International Headquarters
The Theosophical Society
Adyar, Chennai 600 020 INDIA
<![if !supportLineBreakNewLine]>
<![endif]>
Tel (044) 2491 2474
www.ts-adyar.org
intl.hq@ts-adyar.org
The Theosophical Society administers the Tekels Park Estate through a limited company
The Tekels Park Estate Limited
4-6 Church Road, Burgess Hill,
West Sussex
RH15 9AE,
Posted by Dave Marsland
(Opposed to the killing of the Tekels Park animals)
_____________________
The Tekels Park Family Eviction
A family has been evicted from their home at Tekels Park because 
a Tekels Park Estate Limited director wanted to live in their house.
Here is a link to a short film of the Tekels Park Deer
posted by a Camberley resident.
Everyone opposed to the killing of the Tekels Park animals
http://www.youtube.com/watch?v=0Fkfw8amMps
Future of Tekels Park Badgers Now in Doubt
Concerns about Tekels Park Wildlife
Tekels Park & The Loch Ness Monster
Tekels Park is Being Sold to a Developer
TEKELS PARK, CAMBERLEY, SURREY, ENGLAND GU15-2LF